Our recent Blog 'Cornwall's hidden gems' got us feeling all creative. If you love Cornwall and want something special to take home from your holiday, why not make it personal and create your very own piece of Cornish Art.
Whether its inspiration or craft classes that you are looking for, there are many exhibitions planned for 2015 in Cornwall. The Cornwall arts and crafts directory offer continuous information about what's coming up so be sure to keep an eye out.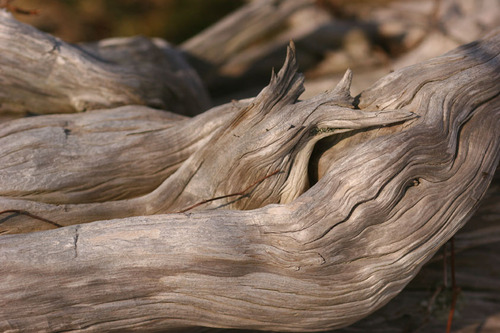 There is nothing more Cornish than a beautiful piece of driftwood; just imagine the stories that lie within that little piece of material! Each piece is unique and will capture the absolute essence of living by the sea – your creation will be yours to keep forever and a reminder of that fresh salty sea air that we have all grown to love.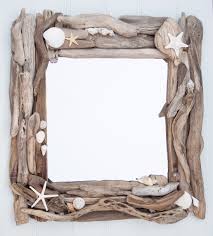 A driftwood mirror is sure to be an eye catching piece in its pride of place. Imagine the fire flickering below, catching the light (ahh.. daydreaming!)
Simply collect beautiful pieces of driftwood from your favourite Cornish beach, place the pieces to suit your style and size onto a frame. Be sure to use a strong wood glue to secure the pieces in place. Why not personalise your mirror further by adding Cornish shells and sea worn glass. Just perfect!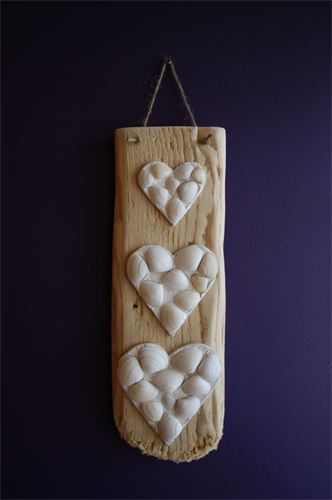 Don't pass by the shells and smaller pieces of driftwood on the beach – these are equally as beautiful! Create yourself a lovely mosaic. Roughly draft your chosen shape lightly with pencil onto the driftwood.. the possibilities are endless. Whether it's a Cornish boat, little hearts, strong eye catching shapes, or even letters – your driftwood mosaic will not disappoint.
Play around with the pieces and place them within the shape until they fit snugly, then get gluing. You can add personal touches to your taste, use marker pens to create the outlining, glitter for a bit of sparkle, or some rock salt for that Cornish sea effect.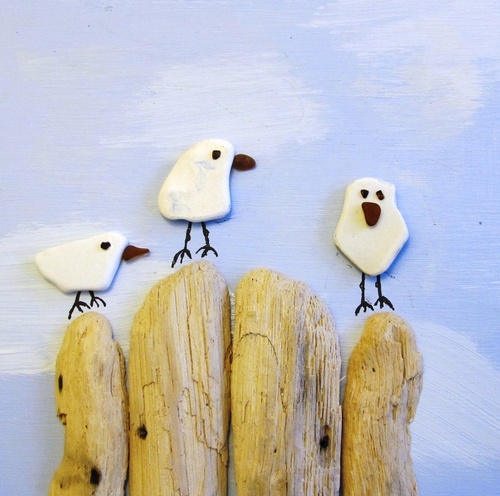 Get the little ones involved and reminisce about those holiday memories. Collect your holiday pebbles and get out the paints; let the children create their own little pieces of art. You can then select your favourites and glue them onto a piece of driftwood in a shape of your choice. Or why not create a canvas picture with your materials to create something fun like the picture featured above. Holiday and childhood memories secured in one place – a perfect present for the grandparents!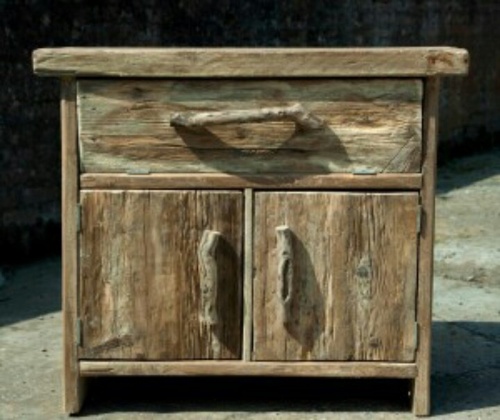 Are you a keen crafter? Or up for a challenge? Why not create your own piece of driftwood furniture – to what extent is your choice. To make it simpler, rather than build from scratch, you could try to cover an old piece of furniture in the beautiful driftwood!
Don't forget to send us your pictures of anything you create from home, we would love to see them! You can tweet them to us, or post them onto our facebook page. Be sure to follow us for more Cornish inspiration.
Thinking about booking a stay in Cornwall to collect your own driftwood? Enquire with Country View Cottages about our accommodation now!
---