Explore Cornwall from your saddle and glide through incredible
scenery with a variety of quiet country lanes through picturesque villages and ancient harbours,
to more challenging off-road routes which explore the depths of the Cornish
countryside.
We've picked out some
of our favourite cycle trails that the whole family can enjoy this summer.
The
Camel Trail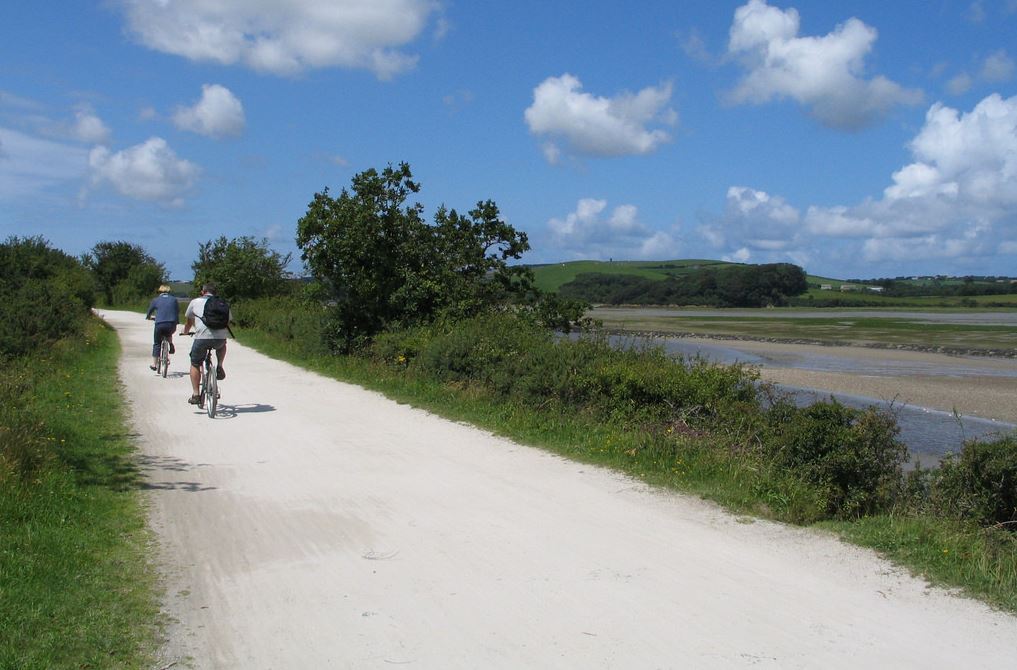 Enjoy the views over the River Camel as you cycle to Padstow
An 18 mile largely traffic free,
surfaced and virtually level multi use trail which provides access to the
beautiful Cornish countryside along a disused railway line between
Wenfordbridge, Bodmin, Wadebridge and Padstow.
The
trail is suitable for walkers, cyclists, horse-riders and wheel-chair users and
falls into three main sections:
Padstow to Wadebridge – 5.5 Miles
Wadebridge to Bodmin  – 5.75 Miles 
Bodmin to Wenfordbridge – 6.25 Miles
The
Camel Trail is free to use and there are many places in Padstow, Wadebridge and Bodmin that provide
bike hire. Only licensed providers are permitted to hire bikes for the Trail, so please check your hirer is licensed.
After taking in the beauty of the trail there are many places to lock up your bike and stroll into Padstow for a bite to eat and of course an ice cream. Whether you want to enjoy the traditional seaside fish and chips or the delights of a freshly caught crab sandwich the options are endless. 

View over across to Padstow from the trail
Cardinham Woods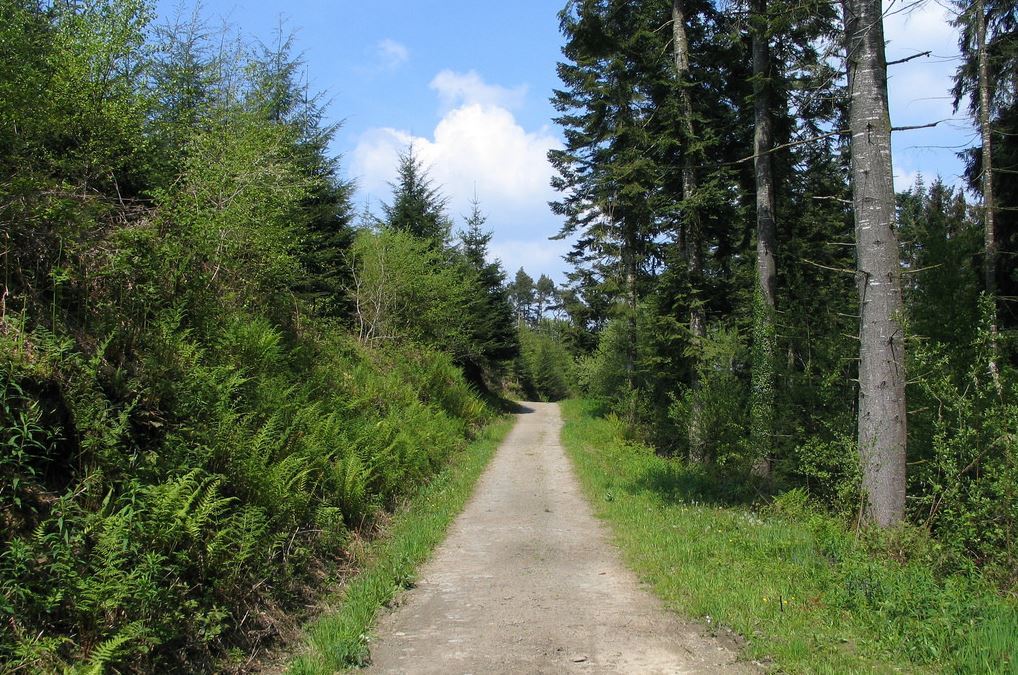 Set in a popular forestry
commission wood just outside of
Bodmin you will find the Bodmin Beast which in total has 3 different trails to
try out, The beast itself is a moderate
ability 7.4 miles trail with lots of single-track, a fair sharing of technical
climbs and descents, tight bermed corners, small step downs, rollers and table
tops perfect for the keen off road biker.
The trail also includes 2
additional harder sections that add about 30 minutes onto your ride and as the
names suggest they are not for the faint hearted. 'Dialled-In Dave' is natural,
flowing and pretty fast, however it is an
ideal introduction to a Red grade single track and a great place to develop
your trail riding skills.
'Hell's Teeth' has a
tough climb and is pretty steep in places. The track has a number of technical
features and a very steep bermed final descent.
After all the excitement we suggest heading over to the Woods
Cafe where you can enjoy a light bite while the kids can stay amused in the
outdoor play area nearby. 
Lanhydrock Bike Trails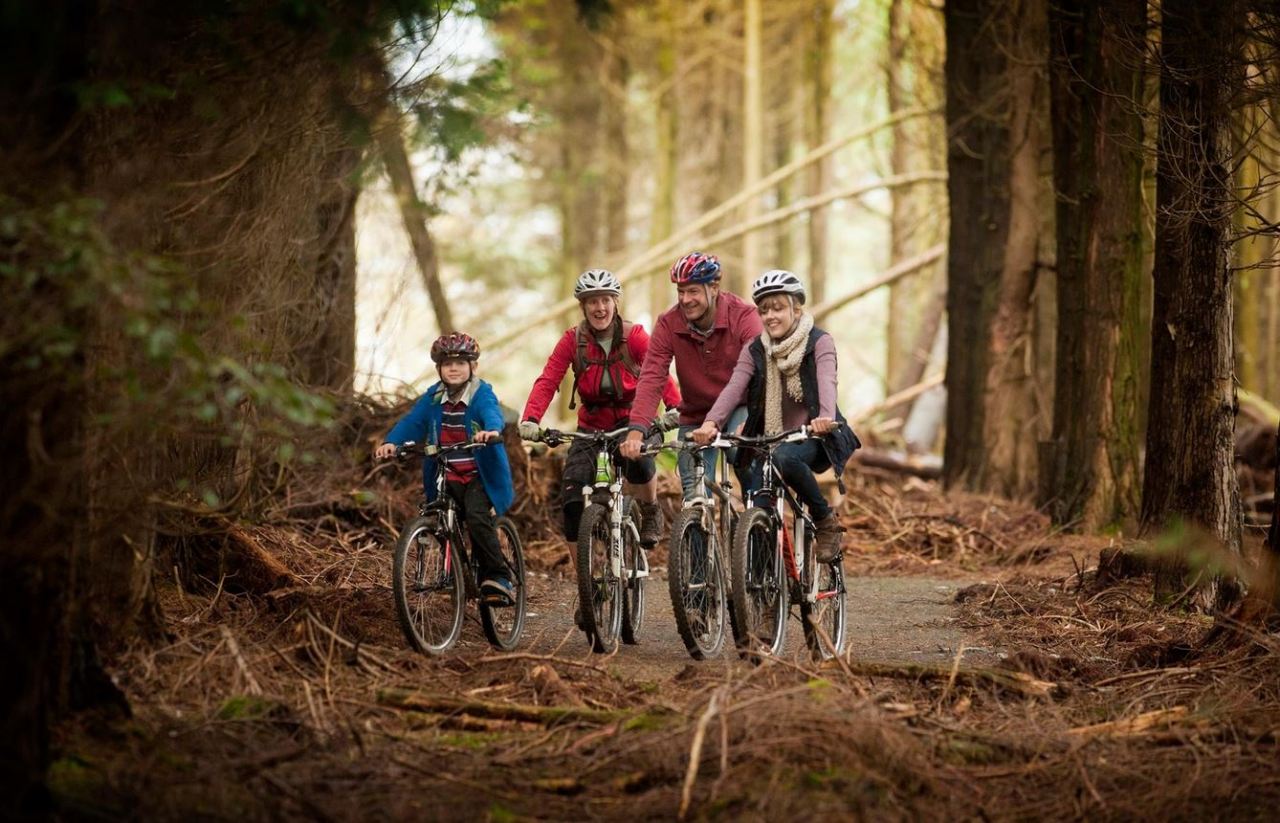 Set in the
estate grounds of the Natural Trust's Lanhydrock, the grounds boast ancient woodlands, tranquil riverside
paths and six off-road cycle trails.
What
makes this place so special is there a dedicated route for families and novice
riders, which takes you on a gentle ride through the estates woodland and is
only 1.5 miles.  Great for the kids is
the skills area which is the perfect place to start your off-road cycling
adventure, allowing them to practice and progress their skills with rollers,
rocks, jumps and a balance bike track, designed to control speed and improve
the confidence of young cyclists.
For the more experienced rider there are more challenging
blue and red trails
Blue moderate trails include
Bazley's
trail –
2 miles  – with easy technical features.
Walter's trail – 2/3 mile  – short technical single track – moderate
gradients.
Hart trail – 1 mile  – exciting single track – moderate gradients.
Timber trail – 1 mile – some short optional red grade sections.
And
the red trail The Saw Pit 1/3 mile
is packed full of technical features and favouring skill over speed, the two
Saw Pit trails are a great place to develop your trail riding skills. The
trails head downhill alongside each other, allowing you and a friend to ride
side-by-side and push your limits.
Here you can hire a
bike for all ages and abilities for either a half or a full day. Helmets are
free when hiring a bike and the hire centre is open every day 10am-5pm from the
1st March to 31st October. If the kids haven't used all their steam
during a fun filled day there is the new adventure playground where you can sit
and relax and enjoy a coffee or snack at the friendly Park Café.
Goss Moor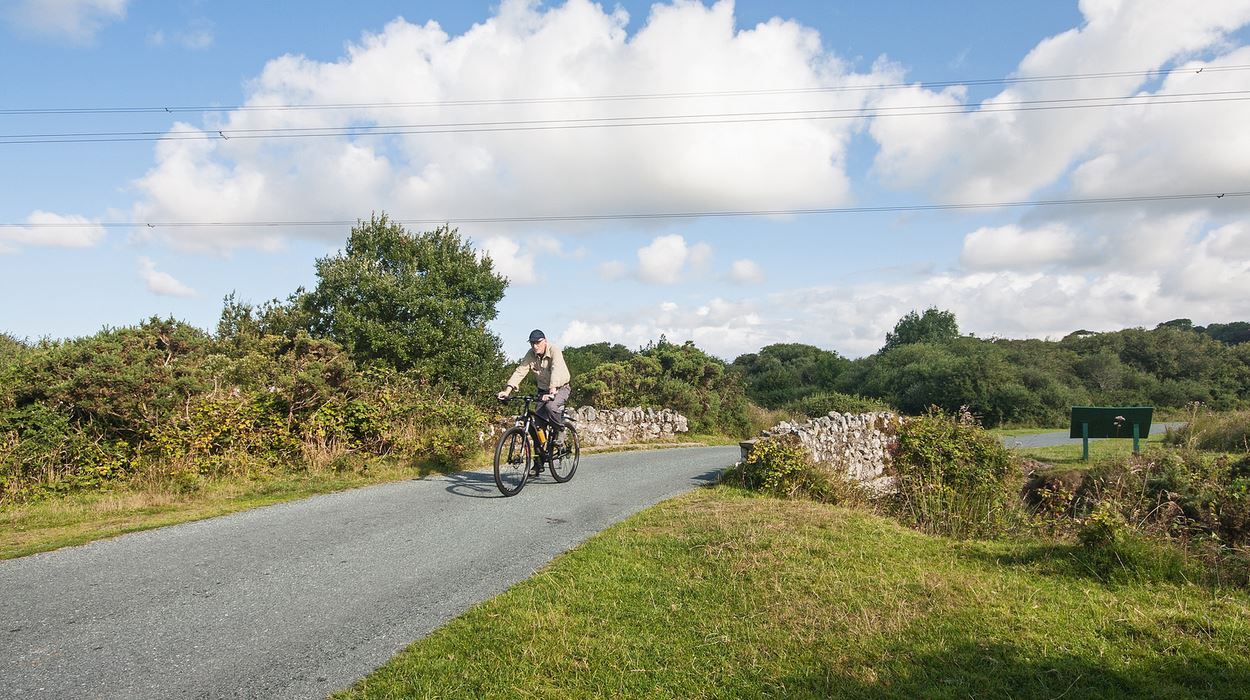 Open countryside cycle over the trickle of the Fal River
Goss
Moor is the largest surviving remnant of the Mid-Cornwall moors and is a haven for cyclists.
The
7 mile multi use circular trail travels through the Goss Moor National Nature Reserve and is
located just outside of St Columb Major near Newquay.  The Trail is mostly flat with much of the
route off road so you can explore the industrial and natural heritage, whilst
enjoying the rural scenery of this unique area while taking in the abundance of
wildlife.
The trail also uses an
infamous part of the old A30 that was always a big bottleneck, causing many a
jam in the summer.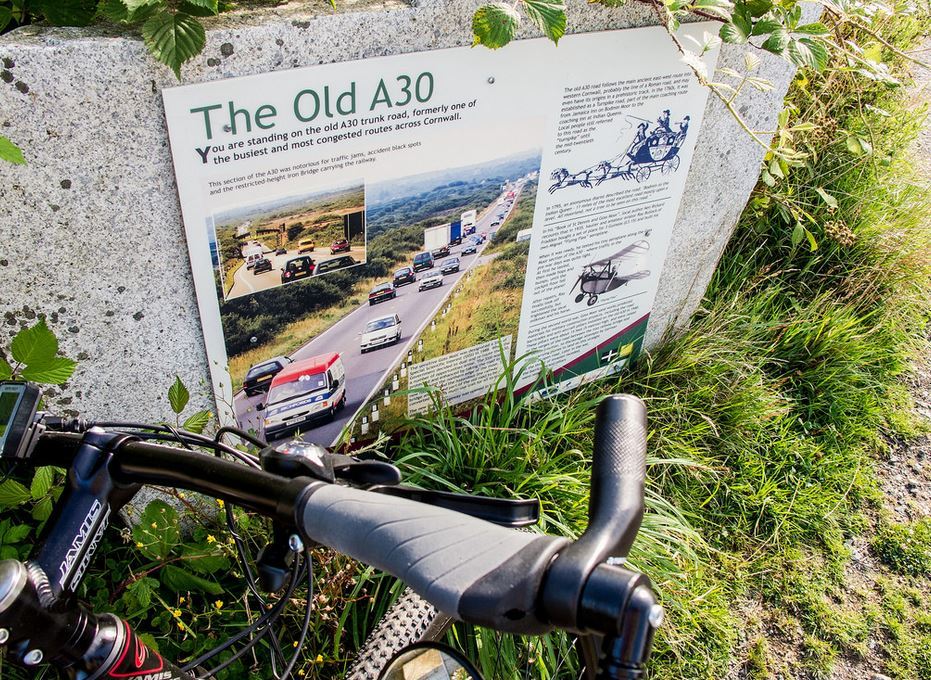 Bikes
can be hired at Screech Owl Sanctuary
St Michael's Way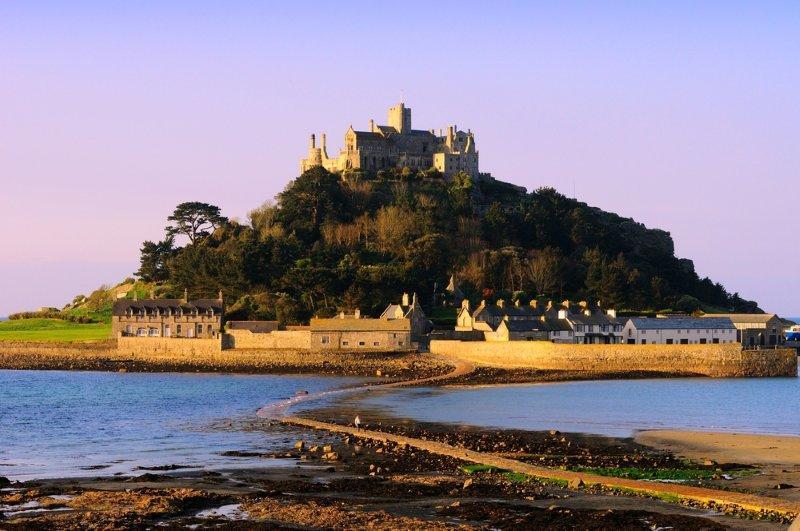 Thought
to have been used by pilgrims, missionaries and travellers from Ireland and
Wales, to avoid crossing the treacherous waters around Land's End it is now believed that this route assisted in Cornwall's
rapid conversion into a Christian faith.
The trail stretches from Lelant on the north
coast near St. Ives to Marazion and the iconic St Michael's mount on the south
coast, near Penzance and stretches 12.5 miles.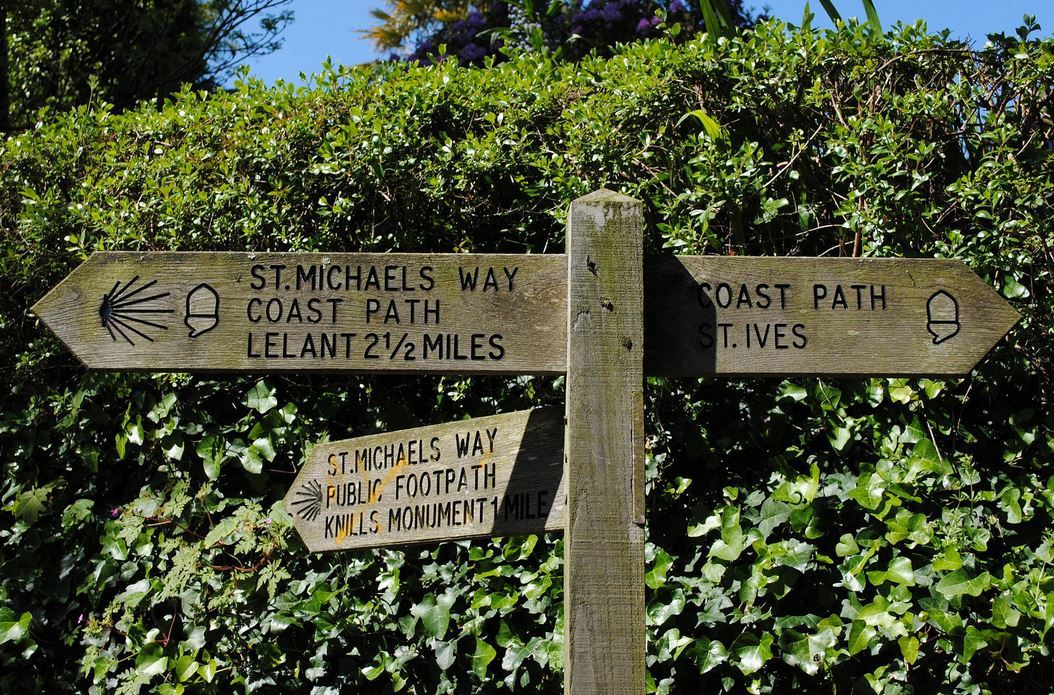 St.
Michael's Way has been signposted and waymarked in both directions using a
stylistic shell based on the Council of Europe's sign for pilgrim routes. The
directional arrows are coloured yellow for footpaths, blue for bridleways and
red for byways. Cornwall Council has chosen to use black arrows on roads.
Once
you have finished you can visit the splendid mount or just enjoy a stroll
through Cornwall's oldest town and grab bite to eat in one of the many Cornish
pubs or cafes while taking in the magical view.
Don't want to bring your bikes with you? We love Go By Cycle 
Cycle hire delivered to where ever you require in Cornwall. Perfect!
---